Closter Public Schools
A Message from Our Superintendent
Dear Closter Community,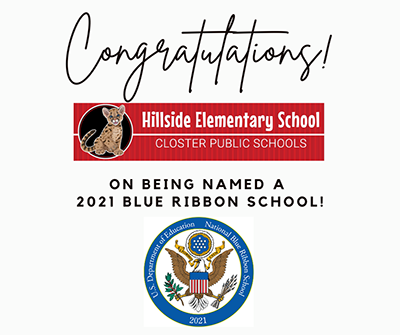 It is with great joy that I announce that Hillside Elementary School has been named as a 2021 National Blue Ribbon Schools Award winner by the U.S. Department of Education. Hillside Elementary School was among 325 winners nationwide announced by the U.S. Secretary of Education Miguel Cardona on September 21, 2021.
This is an amazing honor! I commend the entire Hillside Elementary School community for being recognized as a National Blue Ribbon School. Hillside Elementary School has earned this recognition as a result of the diligence and dedication demonstrated by the teachers, staff, administrators, Board of Education, students, and families.
The coveted National Blue Ribbon Schools Award affirms the hard work of educators, families, and the Closter community in creating safe and welcoming schools where students master challenging and engaging content.
The United States Department of Education will formally recognize all the honored schools in recognition ceremonies on November 4 and 5, 2021, in Washington, D.C. We will have an in-district celebration soon after November 5, 2021.
Hillside Elementary School was successful in earning this recognition due to:
Our teachers' skill and dedication.
Our students' outstanding academic performance.
The school's innovative programs, including STEM, Hillside News Network, music, art and physical education programs, and our own ICARE character education program.
The continued support of parents, the PTO, the KPG, and the Board of Education.
The delivery of instruction during the COVID-19 pandemic using both an in-person and fully-virtual option for students.
Please visit the National Blue Ribbon Schools Program for more information.
Again, congratulations to the Hillside School community. This Blue Ribbon recognition is something for all of Closter to celebrate!
Regards,
Vincent McHale
Vincent McHale
Superintendent of Schools
(201) 768-3001